About ECA @ EMU
The Early College Alliance (ECA) is a unique educational program designed to fully immerse high school students into the postsecondary learning environment. ECA is a public, early/middle college program located on the campus of Eastern Michigan University. Now in its 16th year, ECA partners with all 9 of Washtenaw County's public school districts and Van Buren Schools in Wayne County.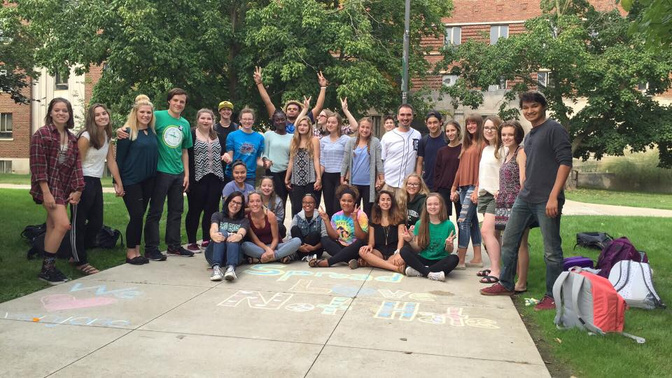 ECA bridges the gap between high school and college/career readiness with an emphasis on increasing college graduation rates. Students from all backgrounds entering grades 9-11 are welcome to enroll via lotteries that reserve the initial 30% of slots for students eligible for free/reduced lunch.
Projects
ECA allows students to:
Graduate from high school with a diploma and up to 65 college credits.
Attend classes on a university campus with support.
Learn in a college environment that fosters maturity and academic growth.
Gain vital skills for college success.
Funding
ECA is funded through a percentage of participating school districts' foundation allowance so tuition and books are provided at no cost to students. They seek additional funding through both public and private sources.
Impact
500 high school students attend Early College Alliance on EMU's campus each year.
77% of ECA graduates have completed their Bachelor's degrees, compared with the state average of 32% (Class of 2015).
$35,000 is approximately how much ECA students save in tuition costs by earning 65 college credits while in high school attending EMU. This is also no cost to students and families for books (avg. cost $600/semester).
"ECA is definitely the blueprint for both my current academic and professional successes. It is because of all of this that I was able to not only pursue a dual-degree but also land an internship at a fortune-100 company." -Mohammad, Ypsilanti ECA Graduate
"ECA is a great place for self-starters to get a jump on college. Being able to take classes for both high school/college credit will help you focus on your major later on and net you a big "Thank You!" from your wallet when you graduate." – Anthony
"The ECA prepared me well and provided stepping stones to college. ECA appealed to me because it was two years of free college credits and it was something different. It challenged me and I had to push myself harder than when I was at my local high school." – Breanna
"The ECA helped me excel in life at an early age. The quality education, personal attention, and financial assistance are just a few reasons why I would, without a doubt, choose the ECA all over again." - Danny
"I am so grateful for the incredible opportunity to attend ECA at the age of 15. Through this program, I received a tremendous head start on my college courses as well as halved my overall cost to go to college. I was able to begin pursuing my doctorate without any undergraduate debt after graduating with a double-major-- something I would not have been empowered to do without the support and structure of ECA!" - Elisa
"The teachers at ECA were more than willing to help me and pushed me to succeed. They were rooting for me the whole time and I couldn't get away with what I got away with in high school. ECA made me grow up… they made me take ownership and responsibility for my actions. I had to actively listen and prepare for college. I think that's why college was so easy and why I was disciplined to get into a nursing program." – Jordan
"To gain an early start on college was the appeal of enrolling in the ECA. It wasn't easy but was worth it. In my home district, there were not many options for advanced classes, and I saw ECA as a way to expand my learning opportunities and to take education more seriously. I was able to take so many courses and figure out what I wanted to do because I had no clue. I just completed my master's degree, and if I didn't go through the ECA, I wouldn't have been prepared for my master's program at all." - Trenton
Early College Alliance is made possible by these Partners:
Make a Gift to the ECA!
Wishing to make a Gift to the ECA? To do so, please go to EMU Foundation's donation page, and follow the steps accordingly. Please note that it is important that you put "ECA" in the gift designation line of your donation.
Have any questions? Please contact Ellen Fischer.